---
The first total knee replacement done on a patient is commonly referred to as "primary total knee." It is the first and best chance for success in achieving satisfactory functional result following surgery. The outcome measures typically used to judge success are pain relief, range of motion, stability, and endurance in performing normal daily activities. While these are important measures by which physicians judge success, patients often have different agenda and expectations. Preoperative discussion with your physician is the time to ask and settle questions and issues regarding expectations of knee replacement.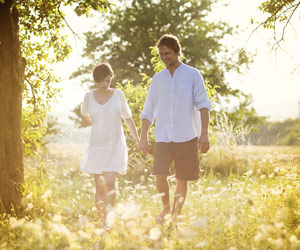 So what makes some total knees different than others? The success of any total knee "hinges" on 4 factors:
Physical condition of patient prior to surgery and mental motivation
Selection of knee implant
Techniques associated with performance of the surgical procedure
Rehabilitation following surgery
By including known measures that are likely to improve performance and enhanced functional capabilities, it is more likely the knee procedure will result in success. This is where Dr. Lionberger and his staff excel. This office ensures that patients are provided with the following measures which have been proven by research to accentuate and embellish success.
Pre-Conditioning
Pre conditioning has been shown to be of the more important things to ensure a patient is ready for knee replacement surgery. If one is not using the knee because of pain when putting weight on it, the muscles will likely atrophy. Dr. Lionberger uses a minimally invasive procedure which preserves these muscles and it is even more important that you attain adequate strength and endurance to prepare you to a rapidly recover from surgery. This is done by having the muscles conditioned through a specific exercise protocol prior to replacement.
Knee Replacement Selection
SIZE MATCHING: It is well known that the female and male knee dimensions are not the same. Utilizing replacement implants that most appropriately conform to the size of the bony architecture has been proven to enhance increased flexion and comfort.
ANTHROPOLOGICAL MATCHING: There are physiological differences in dimension and size attributable to ancestral heritage. For examples, Asians may have a thinner skeletal mass, Native Americans may exhibit a wider condyle and Europeans may have a shorter radius of arc on the articular surface of the femur. Dr. Lionberger will choose the appropriate implant by selecting the best match recognizing physiologic differences.
Techniques Associated With Performance of Surgical Procedure
MINIMALLY INVASIVE SURGERY: Research suggests that in total knee replacements the use of a smaller incision can enhance the return to function and assist in speeding up the recovery process. Dr. Lionberger is specially trained to perform a knee replacement through a limited tissue sparing exposure. Most patients prefer the smaller incision as well for cosmetic reasons
COMPUTER ASSISTED SURGERY: While much of the medical system sophistication has been made possible through the use of computers, many surgeons have not adopted computer technology in the operating room. It is no surprise that computers can improve the accuracy of a surgeon. With traditional instruments a 3-4 degree window of accuracy is achieved. With the use of a computer this accuracy is enhanced to + or – l degree! It does not end there. The computer not only estimates the best size in proportion to various measurements obtained during surgery, but it predicts and documents the position of the compliments. All of Dr. Lionberger's patients are given the option of the use of computer assisted navigation during surgery. Dr. Lionberger was the first surgeon to perform a total knee replacement using a computer assisted electromagnetic system and has been a pioneer in the use and development of computer assisted surgery.
POLY PHARMACY: An array of medications is given preoperatively as well as intraoperatively to Dr. Lionberger's patients to minimize pain. When comfortable, patients will improve performance and attain functional recovery faster than they will without these medications. The combination of these medications utilized correctly in terms of timing is like an army attacking pain as part of a collective effort.
INTRAVENOUS (IV) SEDATION AND AUGMENTED SPINAL FOR SURGERY: A preoperative spinal and IV sedation are utilized to limit the use of narcotics during the surgery and make it possible for patients to go home the same day of surgery. The magic is in the combination as two entities.
PLASTIC SURGERY CLOSURE: Dr. Lionberger is proud of the minimally invasive surgical exposure since it does not involve injury to muscle and tendons typified by the older midline incision. He follows this with a closure of the incision in a delicate fashion without staples which can bind or drag on the tissues which research under the guidance of the Foundation for Southwest Orthopedic Research has shown to be preferable. While it takes longer for a surgeon to close the incision using this technique, it is well worth it for you as a patient.
CRYOKINETICS: Better known as icing, when done at regular intervals post-operatively, can help reduce pain and swelling to assist in a speedy recovery.
ELEVATION: Sounds simple but is unparalleled in reducing swelling after surgery. The objective following surgery is getting range of motion back as fast as you can, having excessive swelling only makes it harder. The less swollen, the faster you recover, and everybody likes that!
Physical Therapy
The combination of all of the above factors is much like the old saying which says "the summation of the part is greater than the whole." Starting with patient education in which patients understand exactly what to expect and followed by a coordinated implementation of all of the above, we can offer our patients a greater chance to recover in a shorter time and ideally experience a higher performance following the recovery period. The outcome analysis of the last 400 knees done last year showed that while Dr. Lionberger's patients were expected to complete physical therapy in 5 weeks, 72% of the patients completed their physical therapy in 3 weeks. The patients successful in these 3 weeks all went to preconditioning and followed post-operation guidelines set out by the handouts such as elevator and timely therapy. As a result of all of these factors makes a total knee by Dr. Lionberger a different experience.